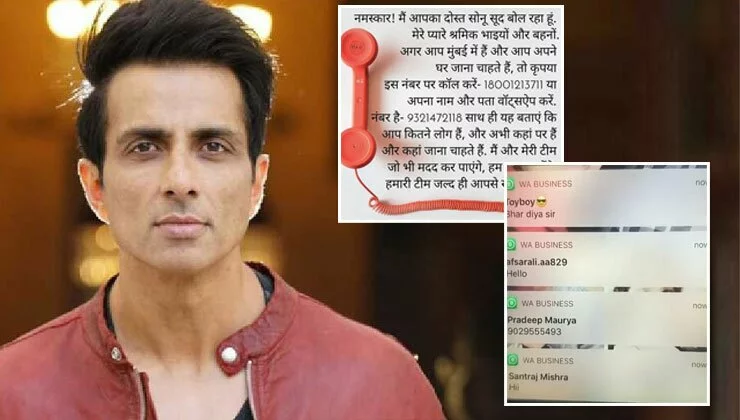 Sonu Sood receives humongous response after he releases helpline number for migrant labourers
Sonu Sood has been winning hearts all over the nation with his great work in helping the migrant labourers go back to their villages. The actor has not only donated food to the people, but he has also managed to book buses which are filled with people and sent over to varied corners of the country, so that migrant labourers don't have to walk and can be back to their homes. After taking numerous requests on Twitter, now the actor has finally released a helpline contact number which anyone can call up or send a message to and request for an immediate pickup.
Sonu took to Instagram to share the details. He wrote, "घर चलें❣️ (sic)." Have a look:
Not only that, but Sonu Sood also has been receiving numerous message on the WhatsApp number provided. He shared a video of how important this service was and captioned the video as, "आपके संदेश हमें इस रफ़्तार से मिल रहें हैं। मैं और मेरी टीम पूरी कोशिश कर रहें हैं हर किसी को मदद पहुँचे! लेकिन अगर इस में हम कुछ मेसजेज़ को मिस कर दें, उसके लिए मुझे क्षमा कीजिएगा 🙏 (sic)." Have a look:
Sonu Sood has been getting immense praise from people all over the world for the fantastic work that he has been doing for the migrant workers. From feeding the people on the streets to going forward to organise buses to giving his hotels for creating government quarantine centres, he has been doing it all. He has been getting praises from all over. Now, numerous memes on the star have been made by fans to show their love for the work Sonu is doing, and the actor is enjoying every bit of it.
We applaud your efforts Sonu. God bless you.