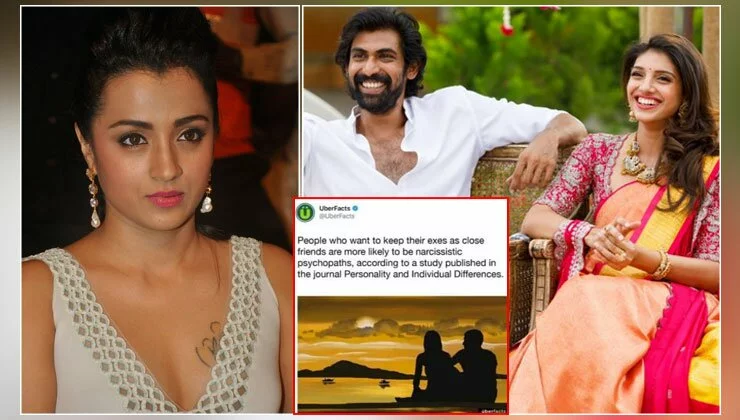 Rana Daggubati's ex-GF Trisha Krishnan shares a cryptic message after his engagement to Miheeka Bajaj; deletes it later
Handsome hunk Rana Daggubati broke a lot of hearts when he made his relationship with Miheeka Bajaj official. Well speaking of hearts looks like one of them was also of his ex-GF Trisha Krishnan. The actress reportedly took a dig at Rana in her recent cryptic post but deleted it soon.
Trisha shared a tweet on her Instagram story that read, "People who keep the exes as close friends are more likely to be Narcissistic Psychopaths (sic)." Ouch!!! Have a look: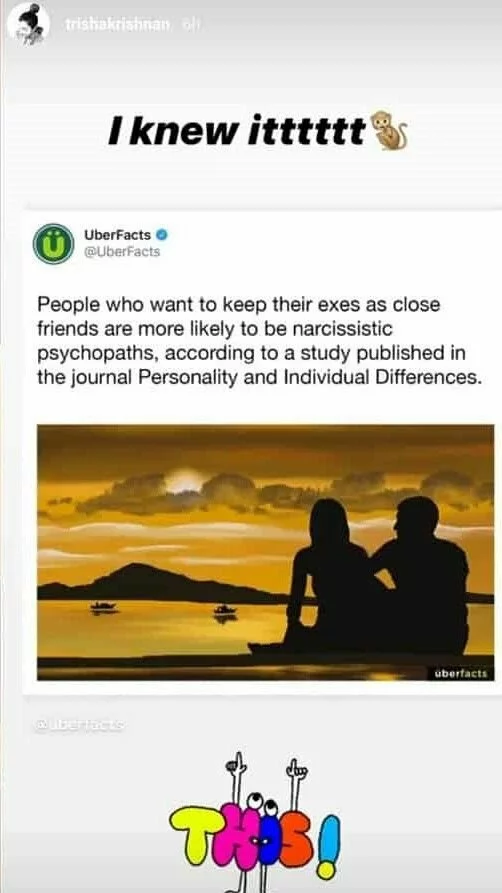 It was not said totally by Trisha, but she shared an Uber Fact and when you share something on your social media, it sure suggests that you believe in what is mentioned there. Isn't it?
Trisha and Rana used to date back in the day but unfortunately, things did not work out for the two and they broke up. They had been the 'IT' couple of the southern film industry and people used to talk about them a lot. However, fans and all got disheartened when the two called it quits. Well, it's all in the past for Rana for sure, but is it the same for Trisha? Doesn't seem so!
Now Rana is engaged to Miheeka Bajaj. Talking about it in a recent live session on Instagram, he opened about how his ex-girlfriends reacted to the news of his Roka ceremony with Miheeka. He said, "As I said, everyone was shocked at first and then expressed their joy. It was something they wanted to hear for a long time and everyone was like 'finally' (sic)."
Reportedly, Rana and Miheeka will tie the knot by the end of this year once this whole Coronavirus crisis subsides a bit.