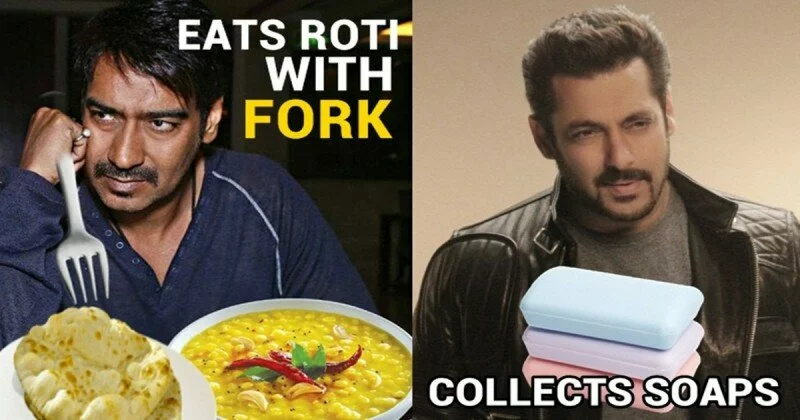 Bollywood Celebrities With Bizarre Obsessive-Compulsive Disorders
 Bollywood Celebrities With Bizarre Obsessive-Compulsive Disorders!
Sunny Leone
She is one of the most popular celebrities in the industry. Coming from the Adult Industry, she is not affected by it at all and have gained a lot of fame and name through her lead roles in movies.
She is obsessed of washing her feet every 15-20 mins.
2. Salman Khan
Can't say about his humanity but , He is one of the most popular actor in India who did a large number of popular films. He is 53 Years old, but still isn't married. Well that's another topic to discuss.
He have a hobby of keeping a soap collection.
3. Vidya Balan
One of the most graceful actress in the industry, she has gained a lot of respect from us and did a lot of great movies like Kahaani and No one Killed Jessica.
She like cleanliness everywhere and whats more amazing is that she always promotes importance of cleanliness and sanitation.
4. Priyanka Chopra
She had gained a lot of success not just in Bollywood but also in the Hollywood industry. She did a famous TV show there "Quantico" and made an Big Star Image worldwide.
She have a hobby of collecting shoes and owns over 100 pairs.
5. Saif Ali Khan
Who don't know the Nawab Of Pataudi. Not just he himself, but his children Sara Ali khan And Taimur are always a trending sensation in the social media.
He have a strange habit of spending time in toilet where he even have a a couple of books and a telephone in it.
6. Deepika Padkone
Undoubtly she is the most gorgeous Actress in the Industry . She is my personal favorite and I am always a big fan of her movies like Yeh Jawaani Hai Deewai and Padmaavat.
She likes to keep everything organized and sorted and always clean stuff when at her home or even at friend's.
7 . Shahid Kapoor
Always looking very young, He is a very Cute Actor. He is also part of many blockbuster movies like Haider, Padmaavat and Jab We Met.
He is very obsessed with drinking Coffee.
8. Ayushman Khurrana.
He is really an amazing singer as well as a good actor. Surely he will be a rocking star in the coming time.
He have a habit of cleaning his hands every now and then.
10. Farhan Akhtar
He is one of the successful person and better known for his role in Bhaag Milkha Bhaag.
His compulsive disorder is almost as that of Deepika Padukone. He likes everything organized which helps him find peace and focus and concentrate.