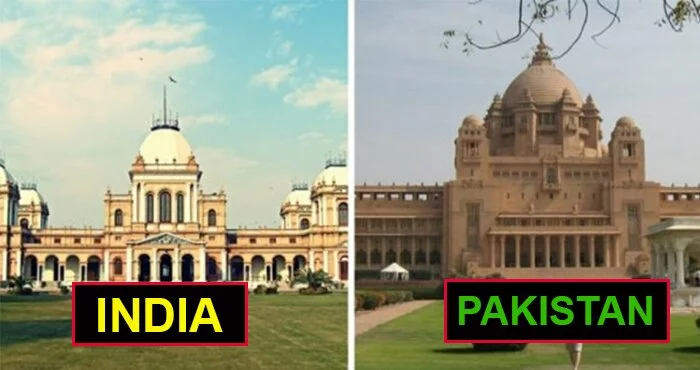 There Are 8 Places In India and Pakistan That Look Very Similar To Each Other
Before 1947, two of the most prominent Asian nations of the modern era, India and Pakistan were a part of the same country. However, the partition compelled the two countries to split their borders, and since then India and Pakistan have had a sweet and sour relationship. Recently, the tensions have been very high on the borders because of the political issues.
While the relations are no longer the same as they were in the early half of the previous century, here are the eight places in India and Pakistan that look exactly the same in this century!
(Source – theyouth.in)
Chandni Chowk, Delhi & Anarkali Bazar, Lahore 
One of the oldest markets in the world, Chandni Chowk is situated in the capital city of India, Delhi. Because of the lockdown, right now, the streets of this Chowk are empty. But, usually, this market received heavy footfall. The second photo is from Lahore where the people are roaming about in the Anarkali Bazar. It has almost the same look as Chandni Chowk.
Jama Masjid, Delhi & Badshahi Mosque, Lahore
Shah Jahan built one of the biggest mosques of India in Delhi during the 17th century and it is known as Jama Masjid. During the same time period, the Mughal emperors built the Badshahi Mosque in Lahore. The mosque in Pakistan has three marble domes.
Chandra Taal, Himachal Pradesh & Qurumbar Lake, Broghil Valley  
Situated in the middle of The Himalayas, the sweet water lake named Chandra Taal attracts a lot of tourists to Himachal Pradesh every year. A similar scenery can be seen in the the extreme north of Broghil, a valley in Chitral District of Khyber Pakhtunkhwa, at the Qurumbar Lake, which has a length of nearly 4 km.
Continue To Next Page…