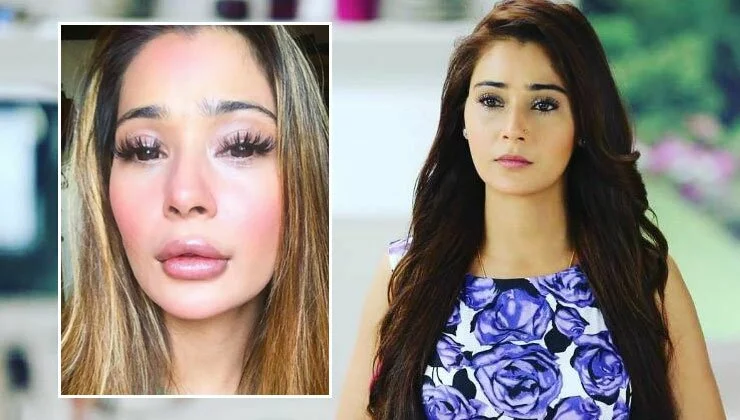 'Bidaai' actress Sara Khan opens up on her lip-filler surgery; calls it a 'disaster'
In this glamorous world of showbiz, everyone wants to look their best and outdo their counterparts. And sometimes in their quest to look even more beautiful, actresses end up going under the knife, which most of the time, they regret later. But you will rarely find an actress who not only admits going under the knife but also regrets doing so.
'Bidaai' fame actress Sara Khan recently opened up about her lip-filler surgery going wrong and how she didn't like her new look at all.
Sara didn't want to under the shadow of 'Bidaai's Sadhna her entire life. Wanting break-away from her on-screen image, Sara in a recent interview with Time of India said, "I didn't think much about my transformation. I just started working out and concentrated on my fitness. I did not change my face, I am the same. Yes, of course, I did the lip filler which was a disaster and it did not look good at all. It was very bad it didn't suit me at all. Mujhe apni khud ke lips pasand nahi aate the tab (I did not like my own lips back then) and I was waiting for it to dissolve. I didn't like my look at that time."
Speaking about she feels unaffected by the trolls, who constantly take a jibe at her lips, the actress said, "Yes, I've used lip fillers in the past but I later realised that I like my natural lips way better! I'm of an opinion that everyone should do what makes them feel better, or boosts one confidence. Nobody should be made to feel bad or trolled for doing what makes them feel better."
She further added, "But I've learnt that lip fillers aren't for me and that my natural lips look the best. And talking about trolls, well, they have zero effect on me. I in fact empathize with them. Because when a troll is putting so much effort in trying to bring someone down, and that too on the internet, you can just imagine how sad their life must be. I hope they find happiness and peace in life. God bless them."