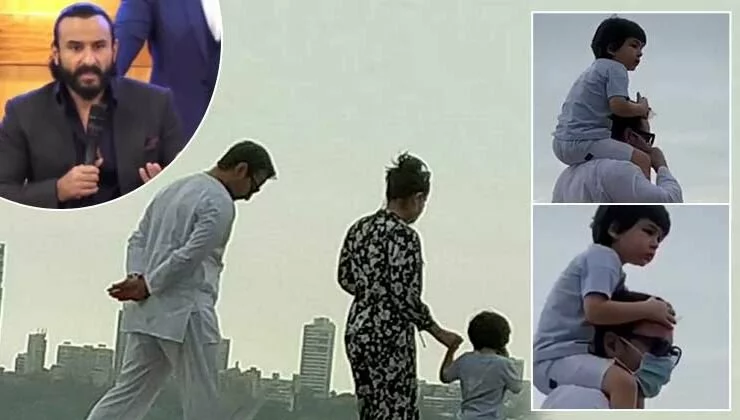 Cop informs Saif Ali Khan and Kareena Kapoor to not bring Taimur out amid Covid-19 scare; Check out the actor's response
Yesterday, Kareena Kapoor and Saif Ali Khan stepped out of their home along with their little munchkin Taimur. They went to Marine Drive and Taimur's nanny was also there. Taimur was seen taking a stroll along with his parents. The pictures and videos went viral all over the internet. In some of the pics and videos, Taimur, Saif and Kareena were not seen wearing their masks. Netizens slammed them on social media for not taking necessary precautions amid the lockdown and being irresponsible parents.
Also, a video has gone viral where we see Saif holding Taimur on his shoulder at Marine Drive. Kareena and Taimur's nanny are also seen along with them. Saif and Kareena were wearing masks, but Taimur and his nanny were not seen wearing them. We hear a voice in the video that is apparently of a cop who was heard saying that they are not allowed to bring kids out amid the COVID-19 pandemic. The cop was saying, "Chote bachhon ko bahar nahi lana hain" to which Saif responded saying, "Bahar nahi lana hain?".
The lockdown's 'Unlock 1' has begun on June 8, 2020. The government has allowed citizens to go outdoors for physical activities like walking, jogging and cycling. But there are also certain guidelines like wearing masks is mandatory while stepping out. Also, kids and senior citizens, are asked to stay indoors. In that case, Kareena and Saif should have been a bit responsible; at least they should have made Taimur wear a mask while taking him out.