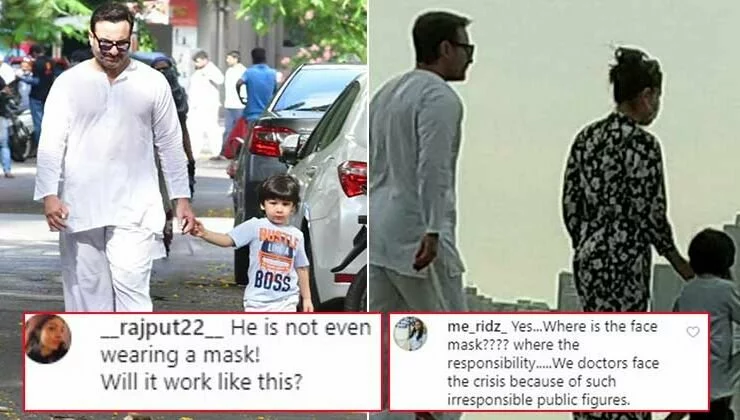 Netizens slam Saif Ali Khan for not wearing mask as he steps out with Kareena Kapoor and Taimur for walk around Marine Drive
Saif Ali Khan stepped out with wife Kareena Kapoor and son Taimur for a walk around Marine Drive. After a very long time, the actor couple were seen taking a stroll on Sunday evening. So far everyone was confined to their homes owing to the Coronavirus induced lockdown
As soon as the pictures of the couple went viral on social media, netizens wasted no time in slamming Saif as in some of the pictures he wasn't wearing a mask. The netizens even slammed the couple for taking out their kid despite the health concerns caused due to the pandemic.
The government is trying to relax certain rules in the 'Unlock phase 1'. So after staying indoors for almost two months, Saif and Kareena decided to go for a walk on Sunday evening. The couple were spotted at Marine Drive along with their cute little son Taimur and his nanny.
In some of the pictures that surfaced on social media, Saif was seen without a mask and that was enough to invite netizen's backlash. One of the users commented, "How are they allowed to roam than? R they payin millions to walk wdout getting shooed off???(sic)." Whereas another user commented, "Yes…Where is the face mask???? where the responsibility…..We doctors face the crisis because of such irresponsible public figures (sic)."
You can check out their reactions below: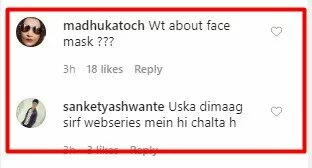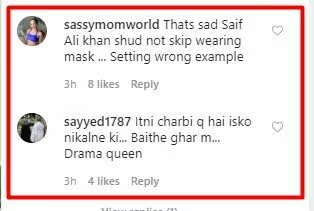 However, in another video, Saif was seen wearing a mask and giving a piggyback ride to Taimur while Bebo was seen walking alongside them.
This time Taimur and his nanny were seen without masks and netizens wasted no time in slamming Saif and Kareena. Criticising them a user wrote, "The question is why taimur is not wearing mask?and what was soo important to go out with a kid when there is no emergency such a careless behaviour (sic)"
Whereas another user said, "Isn't the Nanny and Taimur suppose to wear a mask 😱😱😱"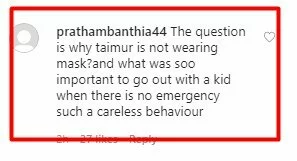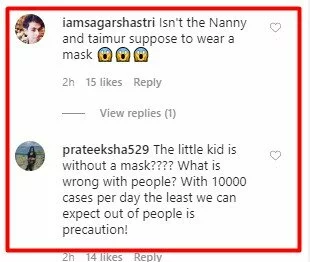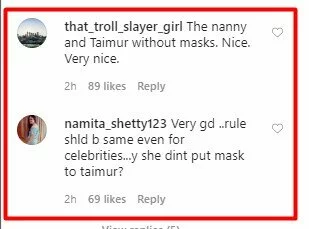 Source