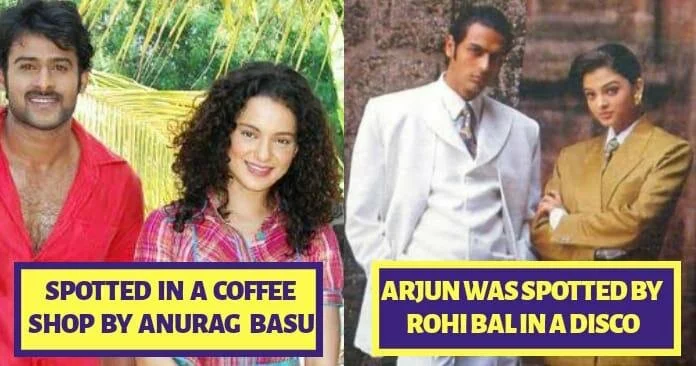 8 Indian Actors Who Were Discovered By Chance
We have created a list of 8 Indian Actors who were discovered by chance and become the bankable star in Bollywood.
1. Kangana Ranaut was spotted in the coffee shop by Anurag Basu
Kangana is now considered an inspiration for outsiders to make big in the Bollywood industry. But how she got a chance to enter in Bollywood?
It follows an amazing story of chance at first sight when Anurag Basu got the first sight of Kangana in a coffee shop in Mumbai.
Well, that's it. He offered her a role in his upcoming movie 'Gangster' then. The film was received well by the audience and we got one of the talented actresses in Bollywood.
So, sometimes going into the coffee shop doesn't mean you are wasting your money, it means getting a good luck charm too.
2. Arjun Rampal got modeling advice by designer Rohit Bal
Arjun Rampal got his share of fame with his movies such as Om Shanti Om, Rock On, and many more. However, he was spotted by ace designer Rohit Bal in a discotheque in Delhi. Rohit was impressed by the looks of Arjun Rampal.
Rohit suggested Arjun to try in modeling and then there was no looking back for Arjun as he got a lot of offers from Bollywood. He has played character roles, villains, and the lead roles as well.
3. Bipasha Basu started the modeling after the advice from Mehr Jessia
It was back in 1996 when Mehr Jessia saw Bipasha Basu at the hotel in Kolkata. She suggested Bipasha to try in modeling and she did so.
Well, we all know that Bipasha is one of the most successful Bollywood actresses. However, it was supermodel Mehr Jessia who first spotted Bipasha in 1996.
4. Akshay Kumar was lucky that he missed the flight
Akshay Kumar breaking into Bollywood would be an interesting film. So as per the story, he returned from Bangkok, started teaching martial arts. Akshay Kumar's photographer friend recommended him modeling.
And he missed the flight to Bangalore for a modeling assignment so he started knocking at studio doors with his portfolio. You can call it big luck but that day he was offered his first Bollywood film.
Also ReaD: 5 Successful Bollywood Films Which Are Remakes Of South Indian Films
Also Read: Main kafan baandh ke acting karne aaya tha: Irrfan on cinema and theatre
5. Bhumi Pednekar audition clip got her big role
Little you know that Bhumi Pednekar was working as an assistant to Shanoo Sharma at Tash Raj films for more than 6 years before she started featuring in Bollywood movies.
Well, Bhoomi made auditions clip to give a reference for what they want in auditions and one day her audition clip landed on the desk of Aditya Chopra.
6. Jeetendra got the role of Body Double in Navrang
Superstar Jeetendra got into Bollywood accidentally. Jeetendra's family was into the business of selling imitation jewelry, and he was supplying jewelry to V.
Shantaram back in 1959. The director cast him as Sandhya's body double in the movie and this is how Bollywood got one of his legends.
7. Parineeti Chopra was approached while she was working with YRF
Parineeti used to work in the public relations department of the Yash Raj Films. She has a triple degree in business, finance, and economics.
She has no plans to enter into the dazzling world of Bollywood until she was approached by Maneesh Sharma, the director of 'Ladies Vs Ricky Bahl'.
Parineeti was praised by fans and critics for her charming screen presence.
8. Madhuri Dixit was offered a movie because of her dance performance
Madhuri Dixit is considered as one of the most influential Bollywood actresses. She was the girl with a golden smile.
She was approached by a film producer when he saw her dance performance when Madhuri was just 15.
She rejected the offer as her parents were dead against it. However, she got the idea to make big in movies and she did so wonderfully.
Also Read: 14 Unexpected Stories That Become Bollywood Blockbuster
Also Read: B Grade Movies Done By A-List Bollywood Celebs
Also Read: Nepotism Effect On Bollywood – List Of Actresses Who Are Affected By It
Also reaD: Bollywood Movies With Lowest IMDB Ratings