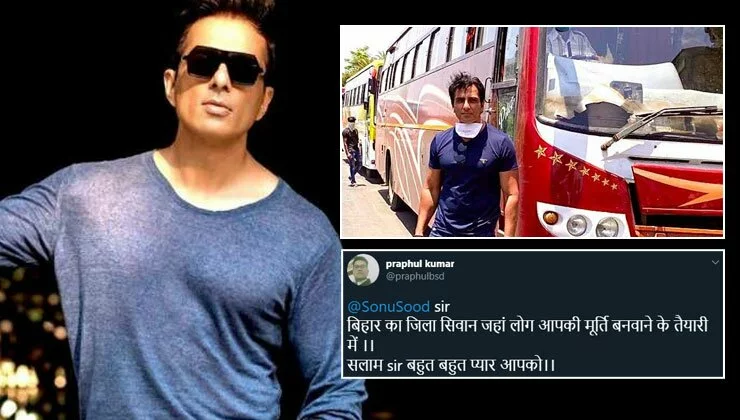 Sonu Sood has a heart-winning reply for his fans building his idol in a village in Bihar
Actor Sonu Sood has become everyone's favourite now for his noble act of helping the migrant workers go back to their homes amid the lockdown. From politicians to netizens, everyone is hailing Sonu for his selfless act. Also, Sonu has been replying to the tweets of his fans who are asking him for help and praising him.
His latest reply to a user has won the internet. A Twitter user wrote to Sonu that people are preparing to make his statue in a place in Bihar. To which the actor replied, "भाई उस पैसे से किसी गरीब की मदद करना।"(Please brother, help the poor with that money).
Check his tweet here.
Sonu is getting lots of love from people. Some has called him 'superhero' while some called him the 'real Shaktimaan'. Hashtag 'real hero' started trending on social media for the actor. Sonu has sent migrant workers to states like Bihar, Uttar Pradesh and Karnataka among others.
In a recent interview with Zee News, Sonu said that he will not rest until every migrant worker reaches their home safely. "I will continue my work until every migrant worker reaches their home. I don't mind the hard work it requires but it is important for me that everyone reaches their home," he said. Apart from arranging buses, Sonu has also been feeding more than 45,000 people every day in Andheri, Juhu, Jogeshwari, and Bandra.
Buy Best "Mosquito Repellent" In Town At Affordable Price!