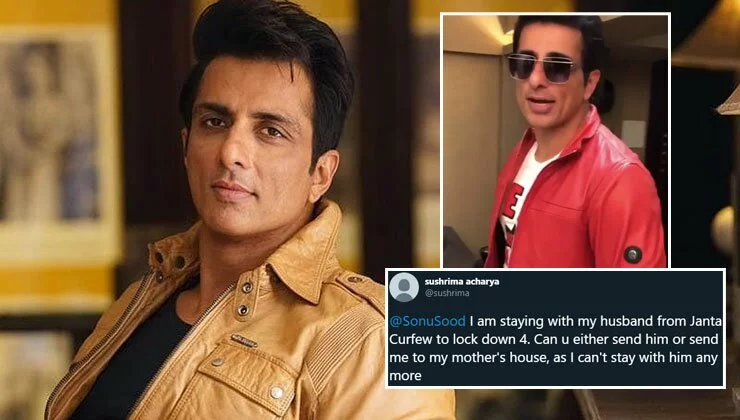 Sonu Sood has an EPIC reply to a woman who said she can't stay anymore with her husband in this lockdown
People have been lauding Sonu Sood for everything he has done to help stranded migrants reach home. The 'Dabangg' actor's Twitter handle is filled with messages and he has also been receiving some unusual requests. Sonu is replying back to these funny and hilarious requests with witty replies.
A Twitter user Sushrima Acharya who is staying with her husband has requested actor Sonu to send either him out of the house or her to her mother's house. Sonu gave a very witty reply that is winning the internet.
She tweeted, "@SonuSood I am staying with my husband from Janta Curfew to lock down 4. Can u either send him or send me to my mother's house, as I can't stay with him any more." To which the actor replied back, "I have a better plan .. let me send both of you to Goa. What say?"
Well, we must say Sonu has given a very cool solution, isn't it?
Earlier, Sonu received a request from one man who asked him to arrange transport so that he could meet his girlfriend. Also, a little girl was seen requesting him to send her mom to her nani's house.
Sonu has collaborated with his entrepreneur friend, Neeti Goel for the Ghar Bhejo initiative. He had recently airlifted 177 girls from Kochi and sent them to their home state Odisha. Earlier, he had offered his hotel to doctors and other hospital staff for their stay. He also donated over 1,500 PPE kits to doctors in Punjab.
Buy N-95 Masks & Breathe Clean!