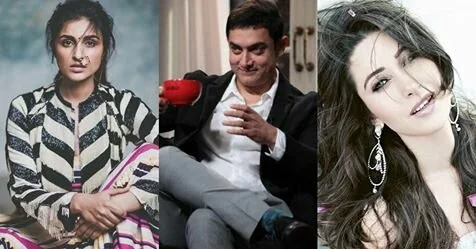 15 Bollywood Stars You Didn't Know Are National Award Winners, Nana Patekar And Mithun Da Have Won Three Times!
Farhan Akhtar: (Best Hindi Film)
Somewhere in the course of evolution of Farhan Akhtar the actor, we lost Farhan the filmmaker. The multi skilled man got his National Award Honor for his very first film itself when Dil Chahta Hai was adjudged the Best Hindi Film of 2001.
Nana Patekar: (Thrice – 1 Best Actor Award, 2 Best Supporting Actor Awards)
Turns out the very psycho performances for which he has been at the receiving end of a lot of jokes, gave him his 3 National Awards. Nana won his best actor award for the very successful Krantiveer followed by two Best Supporting Actor awards for his performances in Parinda and Agni Sakshi. Needless to say, Nana was a revelation in all these movies.
Sunny Deol: (Twice – Special Jury Award, Best Supporting Actor)
One of the biggest action heroes of our country won his first National Award recognition for one of his most successful and accomplished performnaces. Sunny received a Special Jury Mention for his portrayal of a helpless brother in Ghayal who under the agony of system goes rebellious. Just a few years later, he got the Best Supporting Actor for his extended cameo in Damini, the film that gave him the best of his dialogues.
Priyanka Chopra: (Best Actress)

She deserved this, didn't she? The faces of the masses who at the moment is taking India beyond boundaries, got this honor for Madhur Bhandarkar's Fashion that came out in 2008. The very performance Priyanka considers her best to date. Interestingly, Priyanka is the only Major Beauty Pageant winner to have won a National Award.
Paresh Rawal: (Best Supporting Actor)

15 Bollywood Stars You Didn't Know Are National Award Winners
Besides raising enough laughs for his audience throughout his career, the only National Award for Paresh Rawal came for a film that people most likely have never heard of – 'Woh Chokri Sir'. The film had him play a very sensitive role.
Karishma Kapoor: (Best Supporting Actress)
No, it's not 'Zubeida' or 'Shakti :The Power' that Karishma got her national award for. The actress bagged the honor for her performance in Yash Chopra's Dil Toh Pagal Hai in 1997. Karishma was chosen the Best Supporting Actress despite a very stiff competition that year.
Arjun Rampal: (Best Supporting Actor)
Call him so expressionless all you want and he'd have a National Award to throw at your faces. The film that established Abhishek Kapoor as a director, Farhan Akhtar as singer and actor, also gave Arjun the honor he will forever be in debt for. Arjun was the best supporting actor and he won it for the fabulous 'Rock On'.
Parineeti Chopra: (Special Jury Mention)
She swept away all major award shows with her debut performance and recently made news having won a Filmfare for losing weight. Well, away from the controversies, Parineeti Chopra bagged Special Jury Mention for her riveting acting in Ishaqzaade opposite Arjun Kapoor.
Karan Johar: (Best Film Providing Wholesome Entertainment)
The poster boy of virtually every award event in the country claims to have a lot of respect for National Awards. Though, he is yet to win one as a filmmaker. The only National Award that fell in his kitty was when his debut movie Kuch Kuch Hota Hai won the Best Film Providing Wholesome Entertainment. He got too close again after having made My Name Is Khan in 2010, but couldn't get wish come true.