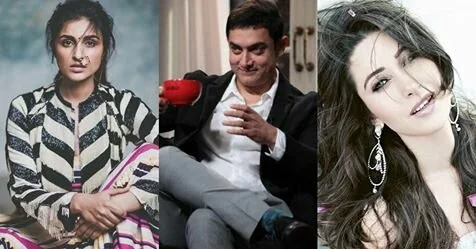 15 Bollywood Stars You Didn't Know Are National Award Winners, Nana Patekar And Mithun Da Have Won Three Times!
Winning a National Award is as huge as winning an Academy for Indian film fraternity. Why do you think Shah Rukh Khan who has a record eight Filmfare Best Actor awards hasn't found his luck yet with National Awards? While it's totally understandable the jury has been kind of harsh on him, you still can't take away the fact that these awards are extremely competent from all industries across the nation and bagging one is an asset one can be proud of. Regardless of these facts, there are a lot of popular faces who could earn this honor despite catering to the needs of our mainstream audience.
Here are 15 of our popular Bollywood stars who in their cinematic journey have won one or more National Awards in some way.
Aamir Khan: (Twice – Special Jury Mention, Best Film on Family Welfare)
The Khan you don't find at any film award events has immense respect of National Awards. He came out on record to say he'd be honored to win one. Sadly, he hasn't yet won a Best Actor award but he still has two in his kitty. Aamir won the special jury mention for his debut performance in the blockbuster Qayamat Se Qayamat Tak. Almost two decades later, he received a well-deserved reward for a different role when Taare Zameen Par was chosen the Best Film on Family Welfare.
Anil Kapoor: (Best Actor)
Anil won the Best Actor Award for his performance in Pukar. The film that couldn't really do pretty well otherwise gave Anil the biggest reward of his life.
Raveena Tandon: (Best Actress)
Having impressed a lot of critics and viewers around the globe with a lot of her performances, the ravishing Raveena Tandon won her first and only Best Actress National Award for her striking display of work in Kalpana Lajmi's social drama 'Daman'.


Mithun Chakraborty: (Thrice – 2 Best Actor Awards, 1 Best Supporting Actor Award)
Who could imagine the lead actor of 'Gunda' who used a bicycle to shield bullets, would be a three time National Award winner. Besides having the unwanted record of delivering most flops in a career, Mithun Da has 2 Best Actor Awards along with one Best Supporting Actor award. He won his first best actor award way back in 1976 for his performance in Mrigayaa followed by a breathtakingly awesome performance in Tahader Katha (A Bengali film in 1992). The Best Supporting Award he received was for his performance in the movie Swami Vivekanand.
Saif Ali Khan: (Best Actor)
While we may argue about the turn of events when he received his honor, fact is, Saif was indeed brilliant with his performance in Hum Tum. Only thing in question remains that how did he win a National Award the same year Shah Rukh delivered a performance like Mohan Bhargav of Swades. Anyway, good for Saif!
Shefali Shah: (Best Supporting Actress)
We know how strong an actress she is. The National Film Jury acknowledged it for her performance in The Last Lear. The same English film also had Big B, Priety Zinta alongside her.
Continue To Next Page…

Buy Best "Mosquito Repellent" In Town At Affordable Price!