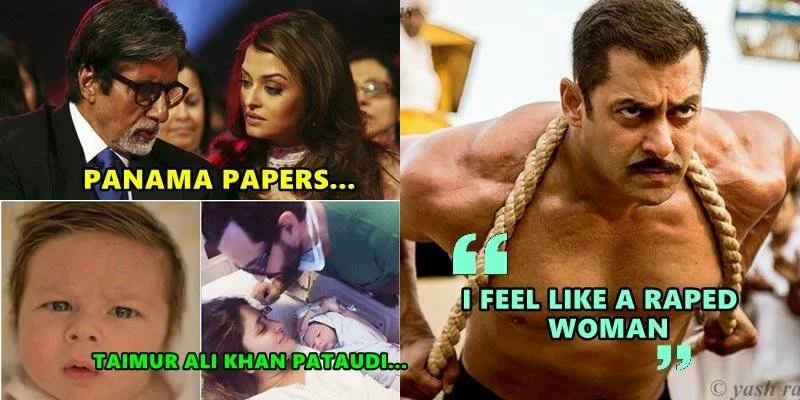 10 Strange Controversies of Bollywood That Turned Our Heads!
1. Aamir's Dangal Body
Aamir Khan's Dangal ran into controversies before and after its release. Just before the release of the film, a Fat to Fit video of Aamir Khan putting on weight and then shedding it in six months achieving an unbelievable six packs was released on the net and went viral. In an interview to a news portal, Ranveer Allabadia, a fitness expert said that this was next to impossible and what Aamir is not revealing is the amount of steroids he has used to achieve this. "It takes six years to shed off 97 kilos and achieve those six packs. At 51 it is even tougher because testosterone levels drop," said Ranveer. Dangal deals with the journey of wrestler Mahavir Phogat and his daughters Geet and Babita who become wrestling champs. The real-life coach of the girls PR Sondhi, who has been portrayed as PR Kadam in the film is upset about the way the film has twisted facts. He alleges, "The film shows I locked up Mahavir in a room. Something like that never happened. I am upset that they show the character of the coach in such poor light."


2. Fawad Khan's Pakistani connection
India has been raving about Pakistani actor Fawad Khan since his debut in the 2014 romantic comedy 'Khoobsurat'. He instantly bagged the Filmfare Award For The Best Male Debut. With hits like 'Kapoor & Sons' the going was good till he got dragged into a political tussle between India and Pakistan. Terror attacks and surgical strikes dragged him into a controversy he could not escape. Indians on social media demanded the return of Fawad Khan to his home country and Karan Johar had to actually make a statement that he would not cast Pakistani actors anymore before he was allowed to release his film 'Ae Dil Hai Mushkil' which starred Fawad Khan.


3. Hrithik Roshan-Kangana Ranaut Spat
No one could imagine that stars like Hrithik Roshan and Kangana Ranaut could have a spat in the media that would take such an ugly turn. It all started when Kangana in an interview on television mentioned a certain "silly ex". She didn't mention any name but she was served a legal notice by Hrithik Roshan saying that she should apologize to him. What followed was a slug fest where nameless relatives and friends quoted as sources in the media made matters worse. Kangana's ex-boyfriend quickly jumped in too. While Kangana held her head high and held on to the fact that she had a relationship with Hrithik Roshan he kept denying the whole thing.


4. Udta Punjab and Censor Board Fiasco
Udta Punjab, a film directed by Abhishek Chaubey and produced by Ekta Kapoor and Anurag Kashyap ran into serious trouble with the Censor Board that demanded 89 cuts in the film including taking off the name Punjab from the title of the film. The producers fought a legal battle with the Censor Board and finally emerged victorious with a single cut.


5. Panama Papers
A group of journalists worked for months on the Panama Papers to find out which prominent people had their wealth stashed away where and how they were connected to offshore companies earning in millions. Names of Amitabh Bachchan and Aishwarya Rai featured in these Panama Papers where Amitabh was found to be the director of 4 offshore shipping companies between 1993 and 1997. Both denied that whatever was published in the Panama Papers was not true.


Continue To Next Page…

Buy Best "Mosquito Repellent" In Town At Affordable Price!