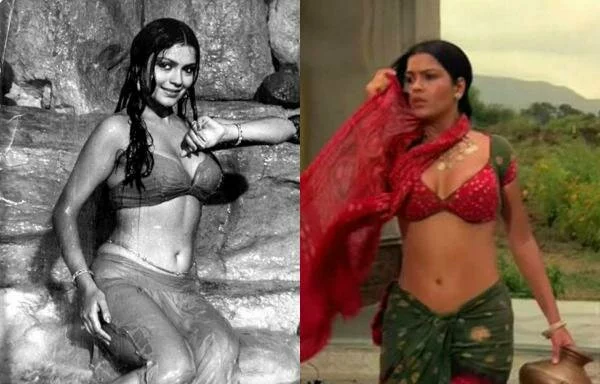 Meet The Popular And Boldest Bollywood Actresses Of 80s That Will Surely Make Your Heart Faster
Actresses today have to be bold enough to shed their clothes if a role demands so. After all, people are interested in skin show and enjoy this kind of entertainment. Though women of yesteryears were considered to be very coy and decent, there were some bold actresses even in that era who didn't mind revealing flesh and curves onscreen. Here are some bold Bollywood actresses of 70s and 80s who went a step ahead and created a buzz in the Indian cinema with their dare to bare acts.
1. Zeenat Amaan
One of the most daring and spicy actresses of 70s, Zeenat redefined glamour and style in Bollywood. She brought in the western look and never hesitated doing bold scenes or wearing revealing dresses onscreen. She even smoked onscreen in the movie 'Hare Rama Hare Krishna' at the time when smoking and drinking was a taboo in the Indian society.
2. Sharmila Tagore
Another among the bold Bollywood actresses of yesteryears is the still ravishing Sharmila Tagore. She was the first Indian actress to have sported a bikini onscreen. Her bikini look in 'An Evening in Paris' followed by a swimsuit photoshoot for the Filmfare magazine tagged her as bold and beautiful.
3. Parveen Babi
The gorgeous actress who gave quite a few bold scenes in Yash Chopra's 'Deewar' and was considered as one of the most bindaas actresses of her times. She stepped into Bollywood in 1973 and featured on the cover page of Times magazine in 1976. She was the first Indian woman to feature on the cover of this prestigious magazine.
4. Dimple Kapadia
Making her debut with 'Bobby' in the year 1973, Dimple Kapadia won a lot of recognition and fame for her looks. She was seen in skimpy clothes in the movie and also sported a bikini. She shocked everyone with her nip slip act in the movie 'Sagar' opposite Rishi Kapoor and redefined the term "bold" for future generation.
5. Mandakini
This beautiful and light-eyed actress shocked everyone with the revealing white saree she wore in 'Ram Teri Ganga Maili'. She did not hesitate in baring her bosom in front of the camera for the role and was quite bold for those times. Our contemporary actresses are yet to get to that level of skin show.
Continue To Next Page…

Buy Best "Mosquito Repellent" In Town At Affordable Price!