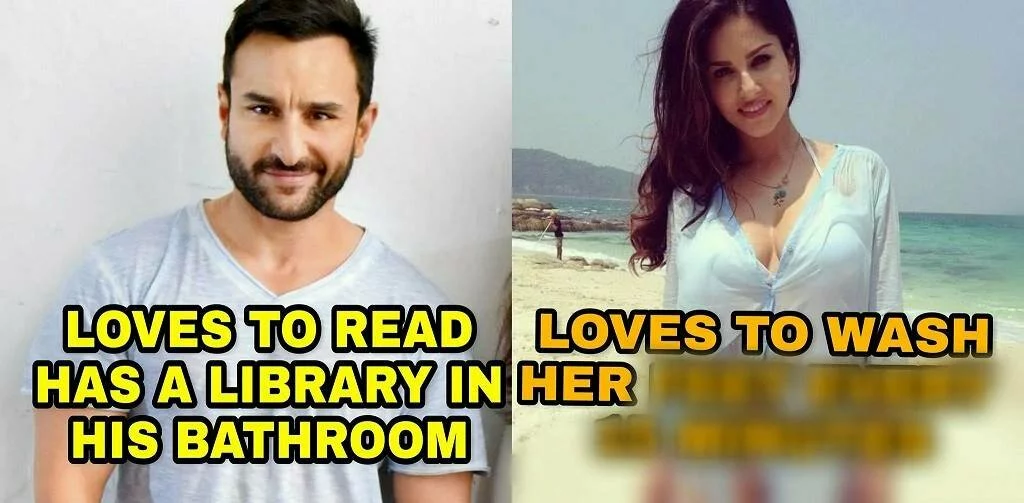 14 Bollywood Actors And Their Obsessive-Compulsive Disorder
5. Kareena Kapoor Khan
Ever noticed Kareena Kapoor Khan's gorgeous nails? The beautiful actress wears acrylic nails because she has a very bad habit chewing her nail. All her efforts to control this habit have been futile.
6. Saif Ali Khan
Just like her beloved wife Chote Nawab also has a habit. He prefers spending more time in his bathroom. He has a library and a telephone extension attached to his bathroom. We hope now he started to spend more time with Bebo, rather than in the bathroom.
7. John Abraham
Bollywood's handsome hunk John has the habit of shaking his leg. Of course not for dance; we all are aware of his lack of interest in dancing. He has this annoying habit of constantly shaking his leg wherever he is. His parents and friends can't stand it but he just won't stop.
8. Amitabh Bachchan
Did you know that Big B wears two wrist watches? Yes! whenever his son or daughter-in-law traveling out of the country for the shoot or a vacation knows what time zone they are in he wears two wrist watches. One is for Indian Standard Time and the other one for their time zone.
9. Vidhya Balan
Bollywood's versatile actress Vidhya Balan loves to wear Sari. She has a collection of saris to over 800. In an interview, Vidhya said that in her dreams she sees herself in Saris. Despite living in modern and glamorous society her habits are old. She has a habit of staying away from her mobile. She even forgets to check her mobile till many days. As a result of which she even missed a couple of events. Quite abnormal in today's generation?
10. Jitendra
Many of us know eating papaya is an old recipe of the clean stomach. But Bollywood veteran actor Jitendra goes on a different level and adopt this for many years. It is said that he eating Papaya while sitting on the toilet pot. Totally disgusting but it is a habit. Can't help.
11. Kunal Kapoor
Kunal Kapoor always leaves some pieces of food on his plate after every meal. Mr. Kapoor is also superstitious in nature as he said he has also a habit of touching wood.
12. Bobby Deol
Bollywood actor Boby Deol is quite superstitious in real life. He takes always pieces of wood with him in his beg. He touches wood after almost every sentence while talking. Quite undigested.
13. Sanjay Dutt
Sanju Baba was highly obsessed with alcohol & tobacco (Guthka) and deduced a lot because of wife Manyata's help. But he still can't let go of it properly. we hope he is aware of the ill effects of chewing tobacco and its deadly cousins.
14. Ayushman Khurana
The Vicky Donor star brushes his teeth quite frequently. Whenever get the chance he starts to brush. This might be his way to keep himself ready for a romantic scene.