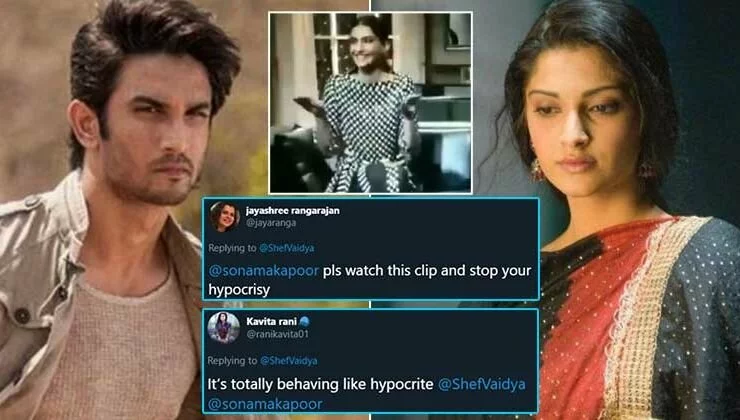 Sonam Kapoor's hypocrisy about Sushant Singh Rajput's suicide EXPOSED

Sushant Singh Rajput's death has opened a can of worms and people are now speaking up about the dirty politics that happens inside the Bollywood industry. Many celebs have tweeted and wrote obituaries for the departed soul, but did they really mean it? Well, with their tweets, some of the actors are actually showing their hypocrisy and two-facedness. Actresses like Alia Bhatt and Sonam Kapoor once didn't even acknowledge Sushant and know who he was and now they have outpoured their grief with their social media posts. Come on, remove the curtain of this hypocrisy.
An old video of Sonam from the chat show 'Koffee With Karan' has gone viral after Sonam had posted on Sushant's death. Sonam was accompanied by her father Anil Kapoor on the show. It was during the rapid-fire round, Sonam was given the names of a few actors and asked to say 'Hot' or 'Not'. When Karan took Sushant's name, Sonam looked totally blank. She shrugged and said, "I don't know" to which even Karan laughed.
Check the video here.
People are calling her hypocrite after watching this video.
Soon after Sushant's death, she mourned his death saying, "I hope you find peace".
Sonam wrote in another tweet, "Blaming a girlfriend , ex girlfriend, family , colleagues for someone's death is ignorant and fucking mean spirited"(sic).
From Anubhav Sinha, Nikhil Dwivedi, Gulshan Devaiah to Ranvir Shorey, many celebs have called out the 'hypocrisy' of the industry. It is known to all that Sushant was shut out of Bollywood's privileged circle and somewhere this too might have affected him a lot in his life.
Sushant's death is a wake-up call for the industry. Hope, everyone learns a lesson as we can't afford to lose another actor like Sushant.