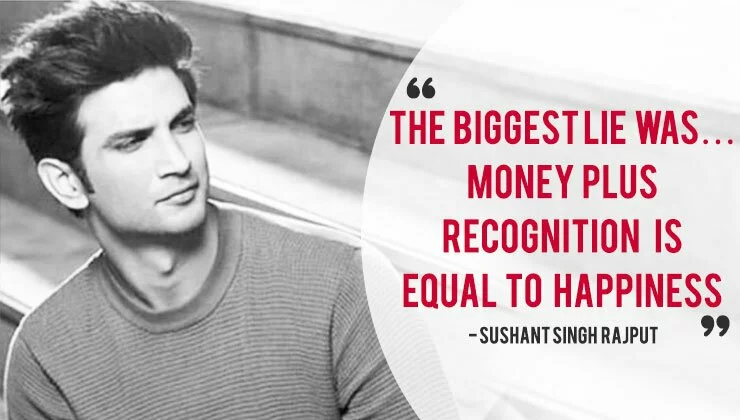 Sushant Singh Rajput dissects the true meaning of success – watch his moving speech
Sushant Singh Rajput was hands-down one of the most talented actors amongst his peers. The actor's untimely death has devastated not only his family but the entire film industry. The young actor's musings and his inspirational journey will always be remembered.
In 2016, Sushant had dissected the meaning of success while addressing a group of students in IIT Bombay. The video of his moving speech and insightful experience has gone viral and everyone should definitely watch it.
Opening his speech, Sushant shared how being the youngest in his family he was always pampered. But when he stepped out he didn't know how to deal with people. That resulted in him becoming shy and an introverted person. "So excuse me if I falter, excuse me if I get a panic attack right now," the actor says in his opening speech. "I come from a middle-class family, and when I was growing up, money was a big differentiator in my life," he shares.
The 'MS Dhoni' actor went on to share that he was told by his family that once he becomes an engineer he will be the happiest as that would open the gates of all the possibilities. But despite clearing all the entrance exams and securing admission in DTU (Delhi Technological University), Sushant expressed interest in theatre and dancing and dropped out of his college when he was just 2 semesters away from getting the engineering degree. "The future me was much happier and much successful than the present me" he asserts. 
Sushant started as background dancers and did theatre in Mumbai in his initial days. "My ex-college mates thought that I was that disaster that folks in engineering and B schools should never become.." he pointed out.
The handsome actor also shared that once he developed a liking for performing arts there was no going back. "I became an actor because I had a problem. As an actor, I hide behind all these fascinating characters and I enjoy it."
He goes on to add, "I was told money plus recognition is equal to happiness is equal to success "After bagging the lead role in a prime time television show, Sushant started earning money. Fame and female attention followed. "I got used to everything. And I felt cheated. I stayed with all these dreams for 10 and 15 years of my life. I was promised happiness and I was promised success, but all these things stayed with me just for a few days. And I am punctuating me because I started from zero money and zero recognition. So I was not happy. How can that be?"
The actor concluded by saying, "All these years, I was obsessed with what's going to happen. I was constantly swinging from past to future, not living in an actual sense. And for the first time, in a long a time, I understood the true meaning of success, which was not money plus recognition but 'now' plus excitement. Here I am right now, five years down the line. Money and fame, all this still could not earn back the reputation in my life. But let me assure you one thing. I have much more of them than I had ever planned."
Sushant died of suicide on June 14. While speculations surrounding his death are rife it is being reported that he was suffering from depression.