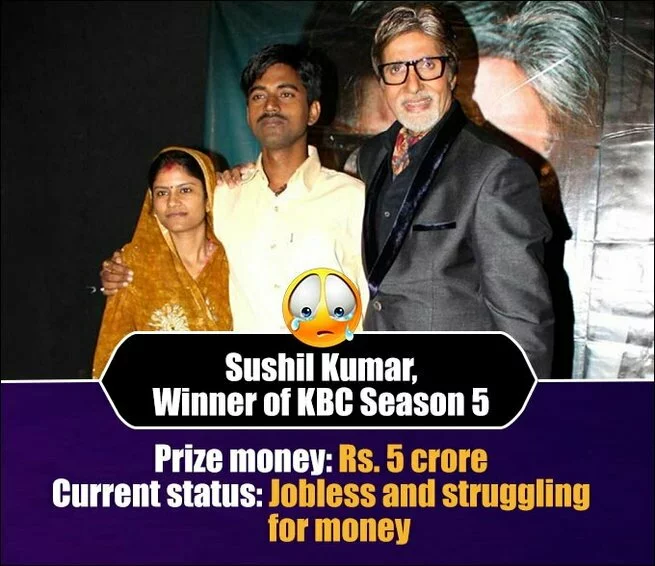 You Won't Believe How The Winners Of 'Kaun Banega Crorepati' Used Their Prize Money And Where They Are Now!
Kaun Banega Crorepati changed lives of countless people. Some were even luckier to become crorepatis. But some of them totally lost it and could not utilize the money efficiently. Let's have a look at the winners of KBC , and how their life changed after winning the show.
Harshwardhan Nawathe, Winner of KBC Season 1 Harshwardhan Nawathe, an aspiring civil service candidate become the first ever contestant to win a life changing amount of Rs. 1crore. After wining the amount, Nawathe changed his mind and didn't appear for his civil service exams and instead pursued a degree in MBA from a university in UK. He now works with Mahindra & Mahindra. His family includes his wife and two children.
Ravi Mohan Saini, Winner of KBC Junior Ravi Mohan Saini was the first Junior KBC winner. He's quite a pro though – he has been on quiz shows ever since he was four-years-old. But more than the crore, says Saini, the biggest price was meeting Big B. Answering all the questions confidently, Ravi took away with him a winning amount of Rs.1 crore. Ravi is now grown up and serves the country as an officer in IPS.
Rahat Taslim, Winner of KBC Season 4 KBC season 4 was aired in the year 2010, this season saw the return of Mr. Amitabh Bachchan as the host. Rahat Taslim was the only winner of KBC season 4 and completed her dream to own a garment showroom in a mall at Giridih in Jharkhand, where she lives.
Continue To Next Page…

Buy Best "Mosquito Repellent" In Town At Affordable Price!