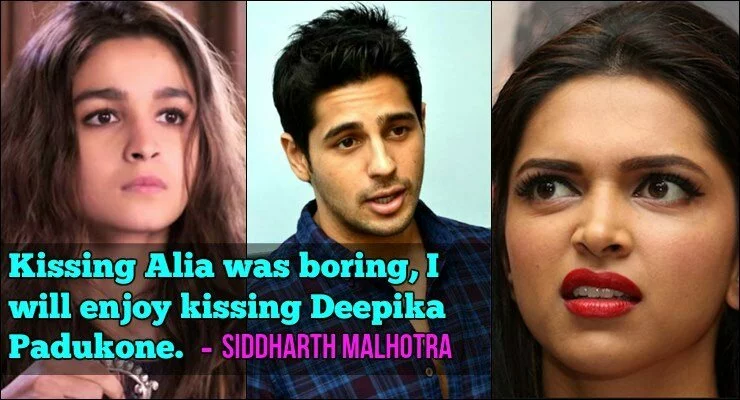 10 Most Shocking Bollywood Celebrity Confessions
6. Alia Bhatt
I AM SCARED OF DARKNESS, I SLEEP WITH MY LIGHTS ON AND WHENEVER I TRAVEL, I AM ALWAYS NERVOUS, I DON'T LIKE FLYING.

In one of her interviews, Alia Bhatt said that she is always scared of darkness. She loves to sleep in light. Furthermore, she said that on highway, she gets nervous of traveling.
7. Sonam Kapoor
I DON'T HAVE THE BODY FOR BIKINI. I DON'T LOOK LIKE BIPASHA OR DEEPIKA PADUKONE OR ANUSHKA SHARMA. I AM NOT THIN. I HAVE A BIG BUM, BIG ARMS, I HAVE CELLULITE.

Sonam Kapoor is an adorable and gorgeous actress of Bollywood. She is known for her personality and attractive look. Sonam has confessed that she hates wearing bikini. Beauty should be revealed from her personality not from her naked body. She further said that she cannot wear bikini because she doesn't feel comfortable in it.
8. Aamir Khan
SHAHRUKH IS LICKING MY FEET AND I AM FEEDING HIM BISCUITS EVERY NOW AND THEN. WHAT MORE CAN I ASK FOR? NOW, BEFORE YOU JUMP IN TO ANY CONCLUSIONS LET ME ADD THAT SHAHRUKH IS THE NAME OF OUR DOG.

Aamir Khan was able to catch everyone's attention with his weird social media post against Shah Rukh Khan. Aamir named his dog as 'Shah Rukh'. This act of Amir wasn't good at all. He, later on, said sorry to Shah Rukh for it.
9. Salman Khan
I AM A VIRGIN, I WILL SAVE MYSELF FOR THE ONE I GET MARRIED TO.

Everyone's jaw dropped when they heard Salman Khan saying that he is still a virgin on Karan Johar's show named Koffee With Karan. Some of the fans considered it to be a joke, but Salman seems to be serious about his words.
10. Shah Rukh Khan
I DON'T KNOW HOW TO MAKE FRIENDS AND KEEP THEM, I COULDN'T ALWAYS TELL PEOPLE THAT I LOVE THEM.

Shah Rukh Khan said these words in Karan Johar's Koffee With Karan. He said that he knows nothing about how to make good friends. Shah Rukh says that he has always been involved in his work and family, making friends and keeping on them is what he isn't aware of.