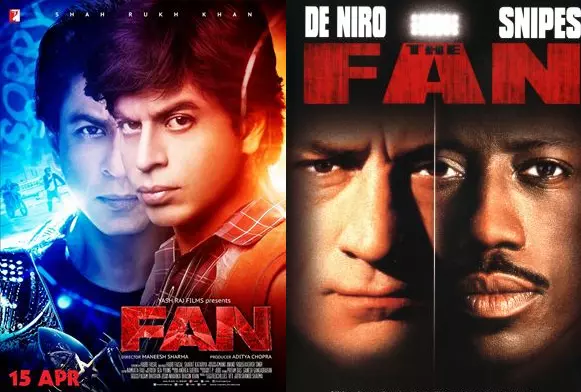 11 Bollywood Movies Of Shah Rukh Khan That Are Copied From Hollywood Movies
Shah Rukh Khan, one of the famous actor of Bollywood and a globally known personality who has a lot of hit movies in his career. The King of Romance has all set with his latest release 'Fan' and will be seen in a double role in the movie. And the movie is already in the controversy due to its story plot being similar to a 1996 Hollywood movie THE FAN.
To address this, here are 10 other movies of Shah Rukh Khan who that has a similar plot from the Hollywood movie
Hollywood movie 'The Fan' which was released in 1996 – Director Tony Scott 's "The Fan" was the story between a sports star and his fan, however Shah Rukh Khan's 'Fan' is the story of a movie star and his crazy fans.
'Baazigar' – a copy of the Hollywood movie 'A Kiss Before Dying' (1991).
'Dilwale Dulhania Le Jayenge' (1995) – Hollywood movie 'The Sure Things' (1985)
Mohabbatein (2000) – a copy of Hollywood movie 'Dead Poets Society' (1989)
'Chak De! India' (2007) – a copy of Hollywood movie 'The Mighty Ducks' (1992)
Continue To Next Page…

Buy Best "Mosquito Repellent" In Town At Affordable Price!