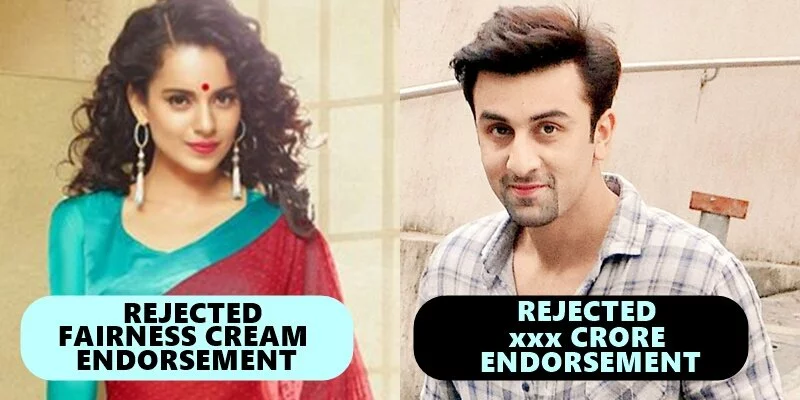 8 Bollywood Celebrities Who REJECTED High-Paying Endorsements For Humanity!
When we talk about brand endorsement we think of a celebrity figurine holding the brand and saying the script that was given to them. Almost always the celebrity never really uses that brand and is only paid to promote a certain brand as a marketing strategy.
Many a times celebrities are also lashed out at for promoting something false and giving fake advertisements for the sake of money and trying to dupe the customers. There are very celebrities who truly care about the viewers and deny to promote something that goes against their moral ground and does not abide by the health-code or doesn't truly live upto its promises.
Here are 8 such celebrities who turned down major offers from brands only due to their moral grounds and ethics:
1. Aamir Khan
Aamir Khan turned down not one but various luxury product endorsements as the Satyamev Jayate takes up endorsements that are only related to social causes
2. Amitabh Bachahan
The biggest superstar of all times rejected an endorsement that he felt was promoting a dowry-related item. Big B felt that the endorsement would only lead to an increase in the social practice in india
[ads1]

3. Abhishek Bachchan

People are aware that Abhishek Bachchan is one of the few teetollers in the industry. He in fact turned down a 10 crore project that required him to promote a certain alcohol label.
[ads1]

4. Anushka Sharma
Anushka Sharma has made it clear that she won't be endorsing anything that is a taboo in our society or promotes racism and sexism
[ads1]

5. Kangana Ranaut
Very recently, Kangana Ranaut was in the news for standing up against a fairness cream brand that had approached the actress for endorsement. Kangana blatantly refused to endorse the Rs 2 Crore worth fairness cream project as she felt that it would be an insult to her sister, Rangoli, who has a heavier complexion and is also an acid attack survivor.
[ads1]

6. John Abraham
The bollywood hunk John Abraham is refused to endorse any product that is related to alcohol and tobacco.
[ads1]

7. Ranbir Kapoor
The Kapoor son rejected a fairness cream project worth 9 crore as he was against promoting racism in any manner.
[ads1]

8. Kareena Kapoor Khan

Kareena Kapoor Khan was offered to promote a Chicken brand. The diva declined the endorsement as she was voted as The Sexiest Vegetaria back in 2008. That's called being true to the core.
These are the celebrities that revive our faith in honesty and humanity. Kudos!