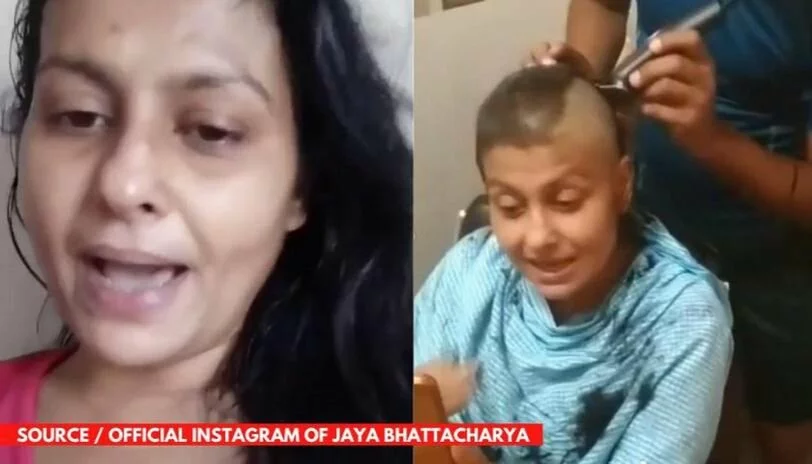 Jaya Bhattacharya Opens Up & Reveals Her Reasons For Going Bald; See Video Here
Actor Jaya Bhattacharya took everyone by surprise when she recently took to her social media to share a series of videos. Talking about how it is getting difficult to manage her hair, she shared several videos as the actor went bald. In a conversation with a leading daily, she opened up on her reasons for saying goodbye to her long hair. 
Jaya Bhattacharya talks her reasons for going bald
Jaya Bhattacharya told the portal that years ago, post one of her breakups, she had to cut her hair short. The actor was tired of people asking her why she was alone despite being so beautiful. The first thing she could think of after that was cutting off her hair. She revealed that it was her way of rebellion. 
She kept the look with the short hair for a long time. Actor Ankit Bathla, who she considers like her son, convinced her to grow her hair and she gave in to his request. She was then asked what prompted her to go bald one again.
View this post on Instagram

#surprise wanted to do this since ages but never had enough motivation This helps me work more freely & better #monday #mondaymotivation #feedthehomeless #feedthehungry #feedstrays #feedstraydogs #feedstrayanimals #coronatime #covid19mumbai #lockdowndiaries #lockdownextended #doyourbit #behelpful #weiredtimes #doyourbest #lifeisbeautiful #lifeisbeautiful as you make @ankitbathla10 SORRY
The actor then revealed that she is an animal lover and has been taking care of the strays in her area for about 20 years now. She added that with the lockdown, health and hygiene have become a priority and it was getting difficult for her to manage her hair. Jaya Bhattacharya currently stays with her father who is 90, two staff members and four dogs. 
She said steps out at least thrice to feed strays and give food to the needy. Since she has to take a bath every time she comes back, it was getting difficult to manage her hair. Jaya Bhattacharya revealed that she can't take a chance with her father and that is why she decided to go bald. 
Jaya further revealed that one of her staff members shaved her head and added that she could not stop doing things that she had to do and let her looks restrict it. The actor further added that the hair can grow back anytime and she has two wigs if she ever needs her hair urgently.