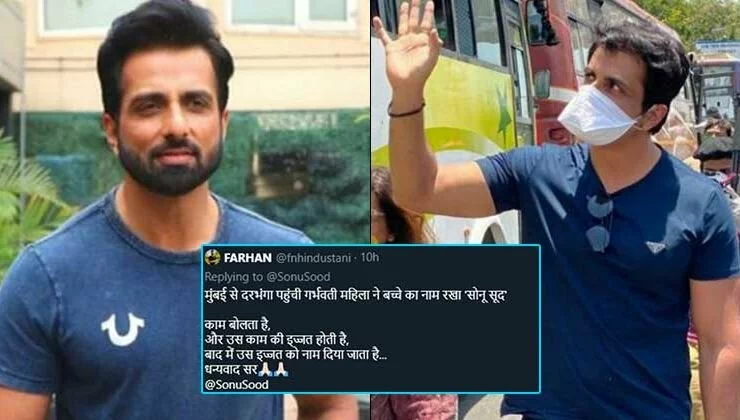 Migrant woman names her newborn baby Sonu Sood after reaching Darbhanga; actor's reaction will win your heart
Actor Sonu Sood is now 'hero' for the migrant workers as he has been helping many stranded migrants reach their homes during the novel coronavirus lockdown. He has been arranging buses for them to reach their respective states and even launched a tollfree number. Many are reaching to him via Twitter and WhatsApp and seeking help. Also, fans of Sonu are showering him with praises for such a selfless and noble act.
A pregnant woman who has reached Darbhanga has named her child after him. A fan of Sonu tweeted, "मुंबई से दरभंगा पहुंची गर्भवती महिला ने बच्चे का नाम रखा 'सोनू सूद' काम बोलता है,और उस काम की इज्जत होती है,बाद में उस इज्जत को नाम दिया जाता है…धन्यवाद सर🙏🏻🙏🏻@SonuSood".
Sonu then replied back saying this is his biggest award. "यह मेरा सबसे बड़ा अवार्ड," he tweeted.
Sonu's Twitter handle is filled with messages from his fans who are hailing him. While some are making an idol of him, some are comparing him to Amitabh Bachchan. One user has even called him the next Rajinikanth of the industry.
The actor has sent stranded migrants workers to states like Uttar Pradesh, Karnataka, Jharkhand, and Bihar. Earlier, he had also donated over 1,500 PPE kits to doctors across Punjab and offered his Mumbai hotel for the accommodation of the healthcare and frontline workers.