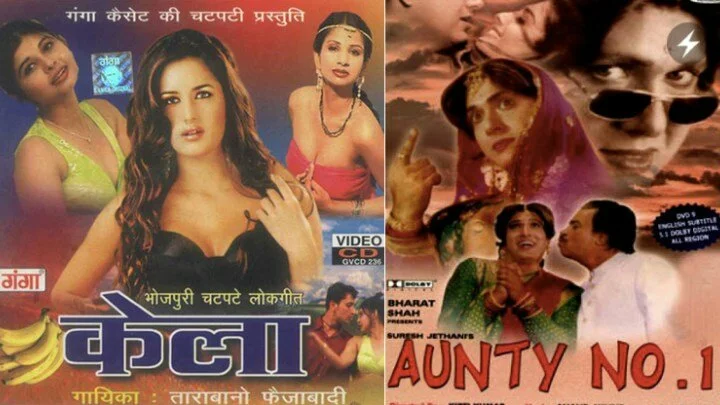 10 Hilarious Indian Movie Posters That'll Make You Kill Yourself
Forget Darknet, the Internet can be quite the surreal place too. Don't believe us? Check out these outrageous movie posters. Some of these are so random and bizarre that we had to pinch ourselves to check if they were real or we were just hallucinating. So here's 10 posters that are so bad, they're just too funny. Some even have the potential to crack your ribs with uncontrollable laughter. You've been warned!
1) Katrina Kaif in a movie called Kela!

This is what the Internet calls viral worth material. This not some fan boy produced photoshop magic, this is a legit movie cover. But we're 100 per cent sure Katrina Kaif does not feature in the movie.


2) Deewana Hoon Pagal Nahi water park

If the title wasn't corny enough, this '90s caper with Vikas Bhalla and Ayesha Julka has a poster with a water park in the background. I guess lovers were crazy about water parks back in the day.


3) Tere Mere Beech Mein! – Phallic brilliance

We don't know if this Dada Kondke movie was just progressive or a bit demented. That poster features Dada Kondke and Amjad Khan sharing a flower between their mouths.


4) Dhoti Lota aur chowpatty – Star studded monstrosity

That name itself is a knockout. If you can get over the title of Dhoti Lota Aur Chowpatty this particular poster is quite the laugh riot too.


5) Test Tube Baby – Scientific fun

We want to contest the authenticity of this poster because we just can't fathom any reason why they'd make a movie exclusively on the subject of Test Tube Baby back in 1991 and stick with such a jargon of a name. We totally dig that giant test tube illustration in the middle though. No wonder B-town went big on surrogacy.


Continue To Next Page…

Buy Best "Mosquito Repellent" In Town At Affordable Price!