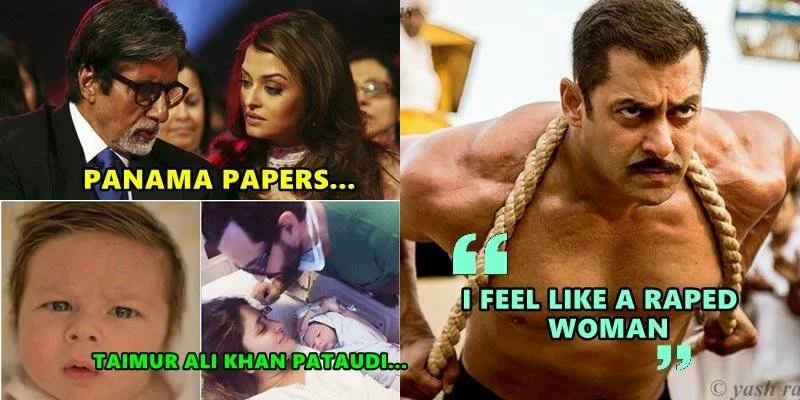 10 Strange Controversies of Bollywood That Turned Our Heads!
6. Naming of Taimur
When Kareena Kapoor and her husband Saif Ali Khan named their newborn Taimur social media went on an overdrive criticizing them for naming their child after the infamous conqueror Timur or Tamerlane. The naming of Kareena-Saif son and reaction on social media slamming their choice of the name shows how people suffer from a myopic vision and also have half-baked knowledge. Taimur is a Muslim name that means a person with good problem-solving capabilities with a creative approach and has leadership qualities. Strangely when this came to the fore no one apologized to the star couple on twitter for their rant the day before.


7. Salman's rape comment
Salman Khan while shooting for the film 'Sultan' where he played a wrestler said that he followed such a grueling schedule that he often found himself exhausted and couldn't virtually walk. He compared his state to the situation of a raped woman. People found this to be an extremely sexist comment and he was even summoned by the Maharashtra State Commission for Women where he failed to turn up. Salman Khan did not apologize for the comment despite National Commission of Women taking it up. The movie Sultan went on to set the box office on fire and Salman established his supremacy in Bollywood. His comment was quickly forgotten as one of his many follies.


8. Karan Johar VS Ajay Devgan
Karan Johan ad Ajay Devgan clashed at the box office with their films Shivaay and Ae Dil Hai Mushkil. But Ajay Devgan alleged that Karan Johar had paid Kamal R Khan (KRK) Rs 25 lakhs to tweet negative about Shivaay and say good things about his film Ae Dil Hai Mushkil. An audio clipping where KRK admits he has taken money surfaced on the net. Ajay Devgan vehemently criticized this and said this shows where the film industry is going. Karan Johar did not comment on this while sources close to Karan Johar said that he would not care to have a conversation with KRK so the question of using him for his films publicity did not arise. Shivaay didn't do well Ae Dil Hai Mushkil managed to keep its head above the water. And many wouldn't be surprised it Karan and Ajay planned this to give their own films some publicity.


9. Naseeruddin Shah's Comment
Naseeruddin Shah commented that the late superstar Rajesh Khanna was a poor actor. Despite the fact that there were thousands always standing outside his bungalow and he was a hit machine at one time Naseer said he only liked two of his films Anand and Aradhana. This comment did not go down well with his fans and even the late actor's daughter Twinkle Khanna demanded an apology. Naseer apologized but maintained that he was not retracting his statement although he felt he should not have hurt the sentiment of his family. Naseeruddin Shah is known for making such comments that kick up controversies. He was merely expressing an opinion. This shows how Bollywood is totally not open to any kind of criticism.


10. Priyanka Chopra's T-shirt Controversy
Priyanka Chopra was on the cover of an international magazine and it the T-shirt had the words 'Refugee, Immigrant and Outsider' struck off leaving 'Traveller' as the only right choice. Everyone felt the actress was insensitive to the plight of the refugees. The actress quickly issued an apology by saying, "I am really, really apologetic about the fact that sentiments were hurt. The point the magazine wanted to make was actually something good." Priyanka Chopra did not elucidate further but it was probably her way of fighting racism. Because in the western world, brown or dark skin is usually associated with refugees, immigrants, and outsiders. But she probably she did not want to get into another controversy by trying to get out of one by making an anti-racist statement.
[ads1]