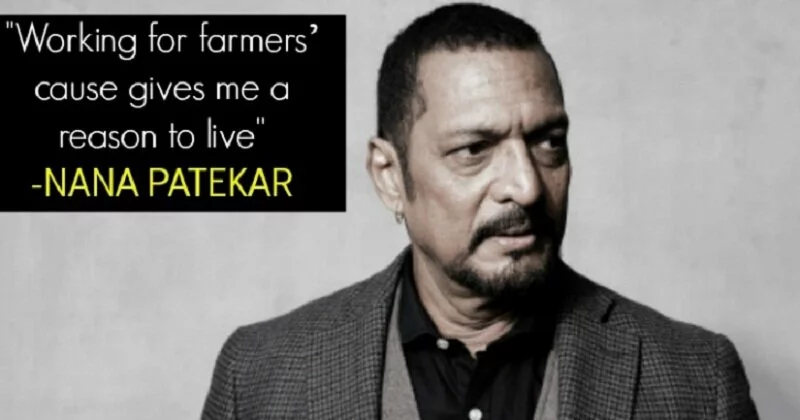 11 Unknown Facts About Nana Patekar – The True Living Legend Of Bollywood.
Nana Patekar has started working in Bollywood movies from the late 70's. He has worked really hard in the movies and over a period of time, he has established himself as a great actor. Those who know Nana Patekar understand that he loves to live his life in a simple way.

He has different shades in his life which hardly people know. He is open when it comes to expressing thoughts on any topic. He is one of those actors who still remains grounded in spite of so much popularity.
Here are the 11 Unknown facts about Nana Patekar:
1. The first actor to demand 1 crore?

Salman Khan, Shah Rukh Khan, Aamir Khan are always in talks for taking crores to feature and act in a Bollywood movie but do you know he has the one who first asked over 1 crore to feature in a movie. Yes, there was a time in his career that producers were willing to pay him that much money!


2. The real angry man of Bollywood!
If you have ever seen Parinda movie, you will definitely love the performance of Nana Patekar. He has essayed the role of Shetty, who is a mafia don. In a climax of Parinda movie, there is a scene where Nana Patekar was surrounded by fire and he got injured badly. He was bedridden for nearly a year and when the director Vidhu Vinod Chopra repeated the same kind of mistake, Nana got angry on him and gave him a piece of advice.


3. Manisha Koirala and Nana Patekar Untold Story
Both Nana and Manisha have worked together in two great movies one is 'Agni Sakshi' and the other one is 'Khamoshi: The Musical.' During the shoot of these films, they two fell in love for each other but it didn't last long. It is reported that Nana's angry behavior was the main reason that they left each other.


4. Nana Patekar – A Real Army Man in Prahar movie
The movie is considered by far the best ever performance from Nana Patekar in Prahar. He not only acted in this film but also directed it. The movie had a very strong plot and he reportedly underwent three years training to be in the character of Army officer. Interestingly, Nana also holds captain rank in Indian Army.


5. Nana Patekar – Inferiority Complex
Nana Patekar was the darkest kid among his other siblings. During his young days, he wanted to marry a girl from his neighborhood but the girl says no for it as he is dark. That particular girl went on to marry his elder brother. This has left him depressed and upset!


Continue To Next Page…

Buy Best "Mosquito Repellent" In Town At Affordable Price!