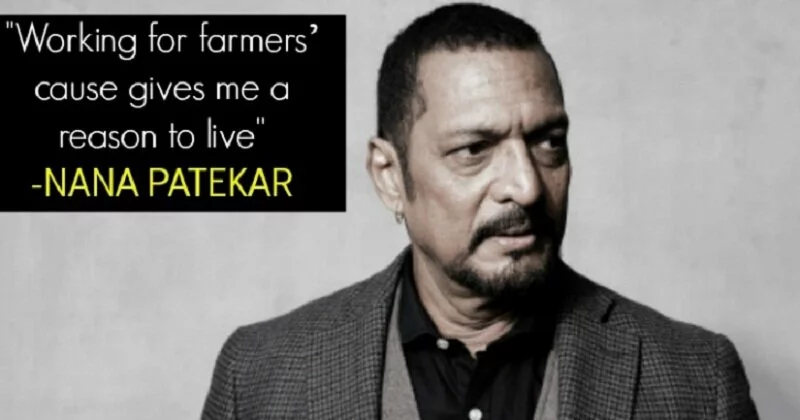 11 Unknown Facts About Nana Patekar – The True Living Legend Of Bollywood.
6. Nana Patekar – A notorious child

Nana, whose real name is Vishwanath Patekar, was quite notorious in his childhood. He was born in Murud, Maharashtra. His father was a textile businessman and mother was a housewife. He mostly gives a headache to his mother!


7. Nana Patekar difficult childhood

He has seen a lot of struggle in life when he was a child. One of a partner of his father has betrayed him and that cost the whole family into a financial crisis. When he was in 9th standard, he started working and earning Rs. 35 for a month. He uses to paint movie posters in those days.


8. Nana Patekar did odd jobs?
He wasn't born rich and when he shifted to Mumbai, he did a lot of odd jobs for his living. He started doing odd jobs like painting zebra crossing on the roads. He has struggled a lot not only in childhood but also when he shifted to Mumbai.


9. Nana Patekar – kind-hearted person
Nana has gone through a lot of pain and struggle in life, who knows the pain of a common man. A few years back, a natural calamity of drought occurred in Maharashtra, which led the farmers to commit suicide. At the time when other celebs were sympathizing, Nana took charge and donated 15,000 rupees to 62 farmers families who committed suicide.


10. Nana Patekar is still live like a common man!
Despite having the fame and money, Nana Patekar prefers to live in his old house in Matunga, Mumbai. Nana lives with his family in a 1BHK apartment in Mumbai.


11. Nana Patekar statement on Sanjay Dutt
When Sanjay Dutt was on a parole in the 1993 Mumbai Blasts case, Nana Patekar has shocked everyone with his statement. He said,"I have not worked with him in 22 years of my career, I will not work with him in future too."
Overall, Nana Patekar is the true living legend and every person must learn from him and live a life like a common man.
[ads1]